Ophiopogon planiscapus 'Arabicus' {24 Pots - 3 1/2 in.}
Black Mondo Grass
(AKA Black Dragon, Monkey Grass, Ebony Knight, Similar to 'Nigrescens', 'Ebknizam')
Pronunciation: oh-fee-oh-POE-gon plan-iss-KAP-us
$215.28 for 1 pack of 24 plants ($8.97 per plant)
10-41 packs - $191.28 per pack ($7.97 per plant)
This stylish plant features black (or dark purple) 1/4-inch wide leaves; in summer, it blooms bell-shaped, pale-lavender flowers. Its new leaves emerge green, but they soon turn black.
Excellent for rock gardens and border edging, Arabicus' stunning foliage is highlighted best by contrasting it with walls, pavers, and lighter colored plants. It is good for under-planting shady woody plants, connecting larger islands, and making dark pools for sculpture nestling.
Arabicus blooms are followed by fleshy blue-black (to black) seeds; this is one of the
plants whose seeds drive birds crazy
. The foliage remains shiny and pristine year-round: it does not require shearing or any other attention.
It is a clumping perennial in the Lily Family that spreads by underground stolons to form an evergreen (everblack?) groundcover. Very slow to spread, and drought tolerant, it prefers an acidic and rich, well-drained (but moisture-retentive) sandy or loamy soil.
Photo of sample plant in 3 1/2" square pot, as shipped (size may vary somewhat depending on the time of year):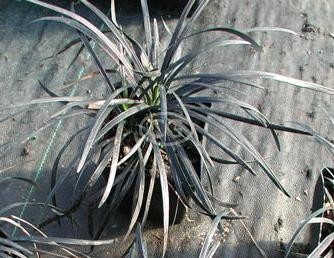 If planting in zone 5,
check with your local extension
to confirm winter hardiness in your area.
Many people ask us about dwarf black mondo grass / dwarf black monkey grass - there is no such thing (but there may be soon!). This plant's foliage height is determined by growing conditions; under harsh conditions (poor soil, water, and/or pH), it may grow only 3-4 inches tall.

Good news!

We are developing dwarf black mondo grass

from tissue cultures, there is a good chance that we will be successful in our quest and able to offer it by late 2014 or 2015. If you would like to receive an email when we have dwarf black mondo grass available, click this button and leave your email address: Email when available
Cold hardiness zone: 5/6-10
AHS Heat Zone: 12-1
Light: Full sun Part sun Shade
Growth rate: Slow
Mature height: 6-10"
Spread: 9-12"
Spacing: 8-12"
Tolerant of: Drought, Rabbits, Salt
pH of Soil: 4.7 - 8.0, Ideal pH: 5.5 - 6.5
Attracts: Birds
Grows Under Trees: Pine - No, Walnut - No, Other - Yes
Good for Erosion Control: Yes
Evergreen: Yes
Good for slopes: Yes
Weed Suppressor: Yes
FREE SHIPPING!
$215.28 for 1 pack of 24 plants ($8.97 per plant)
10-41 packs - $191.28 per pack ($7.97 per plant)
Additional discounts