Transit Days By Zip Code
---
Please note that
if we cannot lookup your zip code
it is probably because we:
-
do not ship to AK, AZ, CA, HI, NV, OR, or WA
-
do not ship internationally
The lookup gives
the number of weekdays our shipments generally take to reach you
(at most 3 days, weekend delivery is not possible), based on the first three digits of your zip code (
contact us
if you wish to inquire about expedited shipping, but be aware it is expensive (tends to more than double the cost of the order).
We do not ship over weekends unless you request it
, as it adds two days to the transit time and may severely degrade the health of the plants you receive (we do not guarantee the health of plants that are in transit over the weekend because of your choice - if delivery is delayed over a weekend because of UPS we WILL guarantee the plants and reship if you are not completely satisfied for any reason).
Please note that in rare instances UPS will take an additional day to deliver your shipment, so while accurate 99% of the time, please use this transit time as a general guide. If you need a shipment on a specific date it's
best to allow an extra day in case the shipment is delayed a day in transit
. Everything we ship will be OK if it has to wait an extra day after arrival and before planting (be sure to open the boxes as soon as possible, remove packing material, and check moisture - the plants need air to breathe and avoid decay, and moisture to respirate). Tracking numbers will be emailed to you by the evening of the day your order ships.
Note that if you live in the southeast your shipment will usually take either one or two days as indicated by this map (note: the 1-day zone will probably become 2-days if you are ordering the special lot of
500 bare root Vinca minor
)...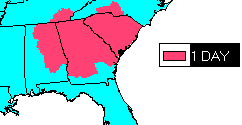 See also:
When we ship
Shipping