Catmint 'Blue Wonder' {25 Pots - 3 1/2 in.}
Nepeta 'Blue Wonder' is a lovely dwarf, mounding, bushy perennial growing 12-18" tall. It features a
long blooming
mass of two-lipped, trumpet-shaped, stunning and long blooming dark
blue
flowers in loose, interrupted racemes (to 6") atop square, leafy stems with oval, intricately-veined,
fragrant
, gray-green foliage.
General information about Nepeta (Catmint):


If you're looking for a vibrantly blooming perennial that is long blooming, heat tolerant, resistant to pests and diseases, and easy to grow, then catmint (or Nepeta) is for you!

Catmint makes a stunning display when massed in flower gardens, in rock gardens, as borders and edging, and in containers. A dazzling array of hummingbirds and butterflies flock to the aromatic long blooming flowers, which make excellent cut flowers in floral designs. Often used to cover the bare limbs of rose bushes, providing a pleasing counterpoint to the vivid tones of the roses.

Nepeta explodes with a profuse haze of blooms in late spring and continues with an almost continuous rebloom into fall under optimum growing conditions and proper shearing of spent flower spikes. Resistant to salt and thriving in seaside plantings, the minty, aromatic foliage repels rabbits, voles, and deer.

Catmint prefers average well-drained soil and in full to part sun sun (in northern zones, 6+ hours of sun is best); shade-grown plants are floppy and flower poorly. Keep it well watered the first growing season until the plants become established. Established plants thrive in full sun and exhibit exceptional of dry soils, drought and humidity. Somewhat intolerant of the heat and humidity of the deep South, however, and appreciates some afternoon shade in hot climates.

Catmints thrive best when divided every 3-4 years in early spring. Leave spent foliage in place over winter to help protect the crown, cut back old foliage in late winter rather than in the fall. Prune back plants by one-third to one-half after the initial bloom to stimulate re-bloom. Must be propagated by division, as seeds are sterile.

Don't bother to fertilize it. Catmint prefers well-drained soil that is not overly fertile. In fact, soil that is too rich may cause the plant to flop over or split in the middle. Should that happen, shear the plant back to tidy it up. Some compost in fall or spring will provide sufficient nutrients to keep the plant happy.

Nepeta racemosa and N. nepetella were first crossed by Dutch nurseryman, J. H. Faasen, in the 1930's.



Interesting Facts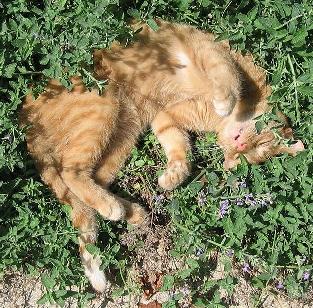 When Nepeta's stems are broken, they release an aroma into the air that tends to attract cats, thus its common name, Catmint.

Many people confuse catmint with catnip (Nepeta cataria). While the two are closely related, catnip is more aromatic than catmint but less ornamental.

Catmints are effective at repelling mosquitos!
ordered these last early last fall, received in 3 days, healthy,neatled packed plants. planted next day without trimming any. planted as they arrived. felt like they rooted in well in the fall and looked forward to the spring. spring rolled around plants started...
Read full review >
Healthy plants but long and leggy so they needed
to be trimmed by two-thirds before planting. Hoping that was the trick. Beautifully packed in superb cardboard boxes; all recyclable.
Plants came healthy and packaged properly. Can't wait to see them fill out in spring!
08/18/2019 Update. Planted 25 last fall. They looked so tiny in my landscape but knew they would grow in spring. They are gorgeous huge bursting blue clouds. Continuous...
Read full review >
received my plants in good condition 3 days after i ordered them. planted as to the directions and watered in right away. for the next 3 days we got rain, total of 5 inches spread out over 3 days. plants looked stressed out,beaten down by rain, but we have...
Read full review >
So far, good. Everything arrived in good condition, carefully packed. Nothing has bloomed yet, but the plants seem healthy and sturdy in their new home.
Thanks.
Too early to give a star rating on the plants. The rating above is only on the packaging...
Read full review >
Nepeta x faasenii 'Blue Wonder'
(AKA Nepeta racemosa, N. mussinii, Faassen's Catmint)
Pronunciation: NEP-eh-tuh fah-SEN-ee-eye
Related Products