Explanation of bare roots
The phrase "bare roots" often triggers anxiety and apprehension in novice gardeners: "Are they just roots? Are there any leaves? What chance do I have that they will survive?".
Bare root plants are simply plants that are shipped without pots or soil, they must be planted soon after delivery but are every bit as hardy as potted plants and you should not lose a single plant given reasonable nurturing. Evergreens will have leaves, deciduous plants (plants that shed leaves during winter) might not have leaves, depending on the time of year that you order them.
Buying bare root plants is great for the environment! Since they are shipped without pots, there are no plastic pots that require disposal.
They are single
divisions
and will cost you far less per plant than potted plants (but you will need to wait longer for them to grow into mature plants). At ClassyGroundCovers.com we are constantly striving to offer our customers the lowest prices. By removing the soil prior to shipping we reduce our shipping costs, thus saving you money!
Because bare root plants are less developed than their potted counterparts they will take longer to fill in.
We suggest that you plant them closer together
and over time they will grow to the same size as the larger, potted versions.
Bare root plants need time to deepen roots before facing winters in cold climates, be sure to plant them at least a month they are exposed to freezing temperatures.
The photos on the site are of mature plants.
For plants that we sell in more than bare root form
, bare root plants will be less mature - in the case of grasses, far less mature - and much smaller. In general, bare root plants identified as fast growing will display full mature foliage after the second season; slower growing plants will take longer.
For plants that we sell only in bare root form
(Daylilies, Hostas, etc.), the plants are mature and should display full foliage the second season. Depending on when they are planted, transplant shock may reduce foliage and/or blooms the first season.
See photographs comparing bare roots and potted plants
Some tall plants may have the foliage cut back to minimize the damage during transit. Once they have grown their foliage to a mature size they will look like the photos on the product pages.
For example, see
bare root Vinca major
- and compare the photographs of what mature bare root Vinca major plants look like...

to what the corresponding immature bare root plants look like...

Bare root grasses
Please note that the bare root grasses (Liriope and Ophiopogon) are a special case. They are single
division
little plants with short roots: Liriope roots are 1-2" long and Ophiopogon roots are around 1" long. The bare root Dwarf Mondo Grass (Ophiopogon 'Nana') is an immature version of a dwarf plant and will look tiny if you are not familiar with what to expect (
see a sample bare root Dwarf Mondo Grass plant
).
Sizes of Grass Plants
Ophiopogon
Liriope spicata,
Liriope m. 'Big Blue'
All other Liriope
Bare roots
single division,
approx 1" roots
single division,
approx 1-2" roots
single division,
approx 1-2" roots
2 1/2" pots
4-5 divisions,
established roots
2-3 divisions,
established roots
single division,
established roots
3 1/2" pots
8+ divisions,
mature plants
4-6 divisions,
mature plants
3-4 divisions,
mature plants
For an example of bare root grasses, compare mature
bare root Liriope 'Big Blue'
: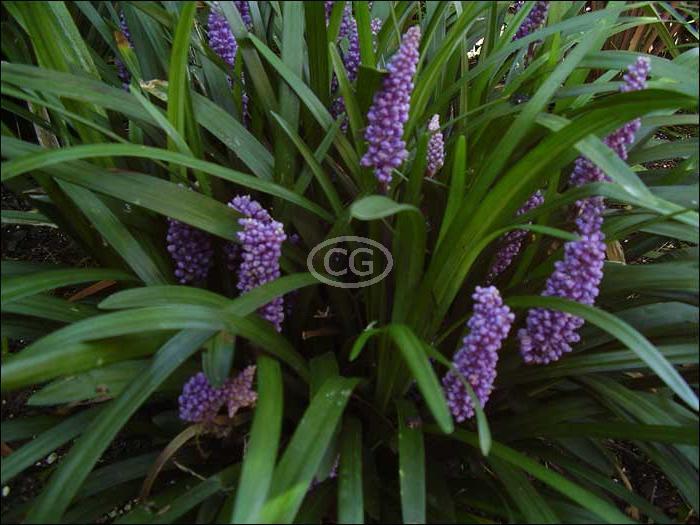 to this photo of what is typically shipped as the bare root (click for a larger photo)...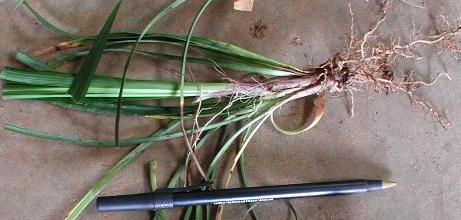 Compare the three sizes of Pachysandra: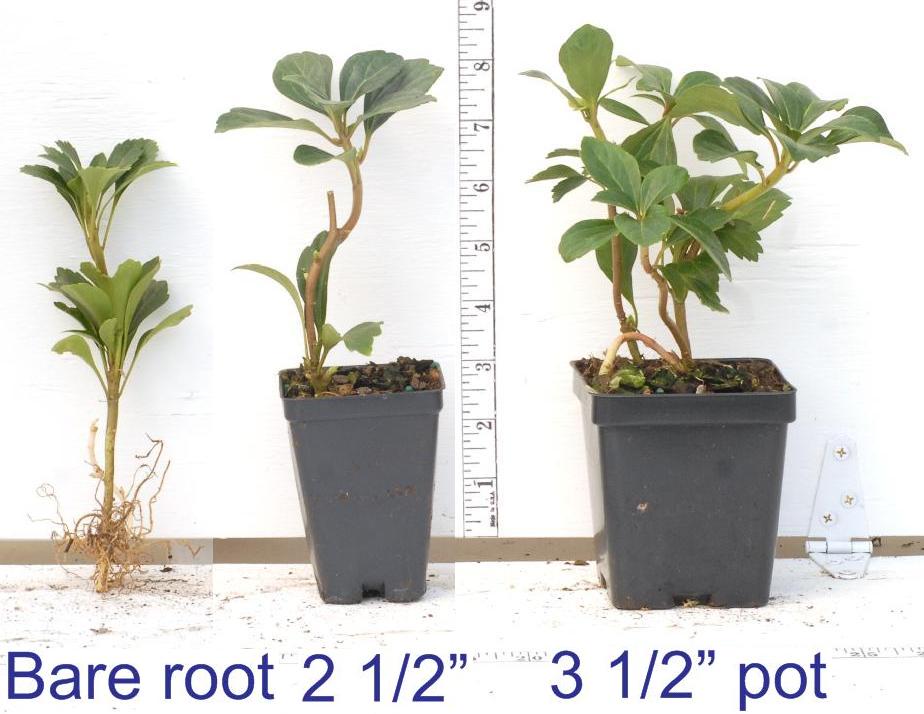 See also:
If you cannot plant bare roots right away
Photographs comparing bare roots and potted plants
Description of potted plants
How to plant bare root plants
Plant calculator