Osmunda cinnamomea, commonly called Cinnamon Fern, is a perennial nicknamed for the cinnamon-shaded fertile fronds that emerge from her center in spring.
First, though,
edible
fiddleheads surface from the center of a symmetric
clump
and stretch out into large, erect,
pinnate-compounded
, lemony-green sterile fronds stretching 2-4 feet long. In autumn, these fade to yellow then turn a topaz-brown before dying back in winter. Then, the fertile fronds emerge from the fern's center standing above the vase-like cluster of sterile fronds. At first green, they soon turn the spicy cinnamon shade for which she is famous, resulting in wonderful explosions of color.
Fertile fronds are covered with abundant masses of brownish
sporangia
that die back after shedding their
spores
in late summer. All of this ultimately results in wonderful texture and visual interest amidst any garden.
Cinnamon ferns yield delightful beauty as
borders
, or because they actually require
moist soil
, as edgings for ponds and streams. Grown in mass, their rusty-hued fronds create a feeling of flames in springtime, and as an accent, a clump of Cinnamon fern adds a lush, tropical feeling, particularly in
shaded
areas.
Winter
dormant
, these ferns have a
slow
to
moderate
growth rate, are some of the few groundcovers that will grow
under walnut trees
and deter
deer
, attributes for which they are prized. Ultimately, the Cinnamon Fern is an extra hardy, highly versatile, moisture loving perennial that offers constant growth interest as well as shimmering shades of shifting colors.
Things to Note
This plant is available for
20% off when purchased with Japanese Painted Ferns (Athyrium niponicum 'Pictum')
.
Interesting Facts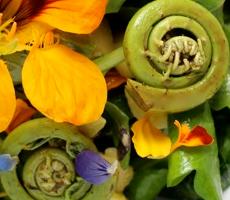 Edible
fiddleheads are considered a delicacy and have been named Vermont's state vegetable. Try cooking these delightful vegetables by simply harvesting when about two inches from the ground and still tightly rolled. Treat them as you would asparagus or try them in quiches and soups. Delicious!
The latent buds of the Cinnamon Fern rival chestnuts in size and flavor!
Fronds can be killed by fire, but they re-sprout from
rhizomes
. Because of this, Cinnamon Ferns have good
fire tolerance
, often showing vigorous rhizome growth after the fact.
Gardener Tips
If you have a water feature, you will want to strongly consider this fern as one of its most stunning applications is planted by a pond where its reflection, in vivid green, is breathtaking.
Please read about bare root plants (especially the paragraph about bare root grasses) so you know what to expect.
General information about Ferns:


When gardeners and landscape designers are looking for a dramatic, vibrant spray of color and foliage, they will often consider ferns for their project. In addition to sweeping texture and lush greenery, ferns work wonderfully as independent or companion perennials.

Perfect in mass plantings where they create the feeling of a field of grass swaying gently in soft breezes, ferns are also delightful as borders where they stand like shapely chartreuse soldiers at the edges of garden beds. Then again, when used as accents, in single plantings, or clusters amidst a rock garden, you have a moving work of willowy art.

But what to choose? You'll be pleased to know that after more than 40 years of experimenting with various ferns, we have compiled a selection of the easiest to grow and hardiest ferns.Essentially, we've narrowed the list down for you, so you can select from our varieties with confidence. A bonus with our ferns is that all, except Japanese Painted Fern and Japanese Shield Fern are native to the United States.

Our ferns generally thrive in part shade and full shade. Have a full sun location? Southern Shield Fern even tolerates full sun! You will love the hardiness of our ferns as all of them are tolerant of drought and most are rarely eaten by deer.

Selections like Christmas Fern are wonderful erosion control options. With some ferns being evergreen and some semi-evergreen, you are sure to find the option that works wonderfully for your garden. Be sure to check each plant's Description tab for details.

See all ferns
08/26/2017 This was the first time I used Classy Groundcovers - The web site was easy to use - but the best part was the plants arrived quickly and we packed well to ensure they remained healthy and ready for planting. The price was right - I can't wait...
Read full review >

07/31/2017 Nearly all the ferns arrived in good shape; a couple had almost no leaves, though. So far, so good.
06/20/2017 I received these ferns very quickly after ordering. I actually didn't get them planted as soon as i would have liked but they seem to be doing well. Some already had little fiddleheads peaking out and have grown in 2 days! I can't really rate...
Read full review >

04/27/2017 The ferns arrived in great condition. However, it would be helpful to know which end is up. I planted half of them upside-down!

08/23/2016 the plants came in great condition. large root ball and very few broken stems. a great value I hope they love their new ground!
Performs best in well-drained (but moist) soil with added organic compost or peat moss. Best not to allow soil to dry out. Over winter, it is best to leave the dead fronds as crown protection.Ferns have delicate foliage that often suffers during shipment and transplanting. Cut off any foliage that is broken, bent, brown or yellow - the plants will quickly recuperate with fresh growth. Bare root ferns are particularly prone to foliage loss, it is not uncommon to have to cut them off at ground level when transplanting. As long as the roots are firm they will recover, showing new growth within weeks during warm months.
General information that applies to all plants:
-
Ground preparation, fertilization, pH
-
Planting instructions
-
Explanation and description of bare roots
-
How to plant bare root plants
-
If you cannot plant bare roots right away
Osmunda cinnamomea
(AKA O. bipinnata, O. imbricata, Osmundastrum cinnamomeum, Anemia bipinnata)
Pronunciation: oz-MUN-dah sin-ah-MOE-mee-ah
Related Products