Polystichum acrostichoides (AKA Nephrodium acrostichoides, Dagger Fern, Polystic Faux-acrostiche)
Pronunciation: pol-ISS-tih-kum ak-roe-stik-OY-deez
Product: 7734
FREE SHIPPING!
10 - 24: $5.17 each
25 - 99: $3.47 each
100 - 999: $3.17 each
1000 - 2499: $3.01 each
2500 - 4999: $2.95 each
5000 - 9999: $2.85 each
10000 - 19999: $2.69 each
20000+: $2.54 each
Aptly nicknamed, Polystichum acrostichoides, commonly called Christmas Fern, is a favorite
evergreen
fern everyone loves to place in patches throughout their gardens. Its
lanceolate
emerald fronds are divided and leathery with hardy, holly-like leaflets and
edible
silvery spring-time fiddleheads.
Typically, it grows in fountain-like
clumps
with the fronds sprouting out of a solitary crown which, over the years, makes a very large, dense mound.
Christmas Fern shows her foliage off when she is used as a
borders
, edging and along foundations or walls. Difficult spaces with little soil don't intimidate this fern and you'll be surprised at how adaptable and willing to grow she is.
Christmas Fern is low maintenance, easy-to-grow, and
deer tend to avoid
her. When placed on slight
slopes
, especially drier, rocky ones, mass plantings of Christmas fern will provide a lush hillside of green that doubles as
erosion control
.
Interesting Facts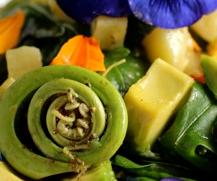 Edible
fiddleheads are considered a delicacy and have been named Vermont's state vegetable. Try cooking these delightful vegetables by simply harvesting when about two inches from the ground and still tightly rolled. Treat them as you would asparagus or try them in quiches and soups. Delicious!
Christmas Fern is a Missouri
native
found in ravines and on humid banks and wooded slopes.
The common name "Christmas Fern" comes from its evergreen nature and its past use as Christmas decoration; its
pinnae
even resemble small Christmas stockings.
Gardener Tips
With her
slow
to
moderate
growth rate, Christmas Fern grows very little in the first season. Consider purchasing more plants initially for quicker coverage with the bonus of being able to divide her after a few years.
Polystichum acrostichoides' fronds are often used in flower arrangements.
This fern will not disappoint you in a rock garden coupled with such beauties as
Creeping Jenny
. to blanket the ground and Lavender for vivid contrasts in texture and colors of foliage. Add
Coral Bells
to soften the garden and provide lovely flower spikes.
If you are considering purchasing this plant in bare root form, please read about bare root plants so you know what to expect.
General information about Ferns:


When gardeners and landscape designers are looking for a dramatic, vibrant spray of color and foliage, they will often consider ferns for their project. In addition to sweeping texture and lush greenery, ferns work wonderfully as independent or companion perennials.

Perfect in mass plantings where they create the feeling of a field of grass swaying gently in soft breezes, ferns are also delightful as borders where they stand like shapely chartreuse soldiers at the edges of garden beds. Then again, when used as accents, in single plantings, or clusters amidst a rock garden, you have a moving work of willowy art.

But what to choose? You'll be pleased to know that after more than 40 years of experimenting with various ferns, we have compiled a selection of the easiest to grow and hardiest ferns.Essentially, we've narrowed the list down for you, so you can select from our varieties with confidence. A bonus with our ferns is that all, except Japanese Painted Fern and Japanese Shield Fern are native to the United States.

Our ferns generally thrive in part shade and full shade. Have a full sun location? Southern Shield Fern even tolerates full sun! You will love the hardiness of our ferns as all of them are tolerant of drought and most are rarely eaten by deer.

Selections like Christmas Fern are wonderful erosion control options. With some ferns being evergreen and some semi-evergreen, you are sure to find the option that works wonderfully for your garden. Be sure to check each plant's Description tab for details.

Special note when planting bare root ferns in hot weather: If you plant bare root ferns during hot weather it is common for the foliage to die off. Do not fret, as long as you keep them moist they will grow back foliage. Depending on the severity of the heat it might not be until after summer ends.

See all ferns
Specifications

Reviews

Bought 25 plants last year for a slope area that needed both beauty and slope support. Was a rough summer - lots of rain early, then hard heat for almost 60 days - but plants generally did well with little or no support in terms of feeding or water. Bought...
Read full review >

They arrived moist and green, in beautiful condition. Within two days I had them planted. Without a doubt I would order again from Classy Groundcovers.

Arrived fine. Planting in a day or so
As always, Classy Groundcovers delivered extraordinary plants. The bareroot Christmas ferns were in great shape when they arrived, carefully packed and perfectly moist. I don't want to get anyone in trouble but thanks for the few extra ferns, it will make...
Read full review >

The plants looked healthly and happy when they arrived. They are now panted. . .we'll see what happens in the spring. Plants arrived within a couple of days of the order. Thank you.
Shipping

Care

Related Products